I had my usual nap yesterday, and had a very weird dream again. Dreams are by nature surreal because our brain can not understand easily the physics of another dimension. So it resorts to things it knows (e.g. an advanced AI machine might look like a dishwasher), and to symbolism. I feel that I was allowed a peek into the plan somehow. Maybe because I insisted in knowing "what the hell is going on" on my various meditations.
So anyway, I was in a place that had compartments separated by veils (curtains). I understood in my dream this was a UFO, and that my brain was simply showing it as such. In one of the compartments, there were the workers. Short creatures, looked androgynous, waiting for their next task (obviously representing the Greys). One word that could round up their psyche: resentment. They didn't want to do all these jobs they were assigned to do, they just wanted their freedom.
On the other compartment, it was full of hybrids, with a veiled (cloaked?) insectoid overseeing them. The hybrids were holding a competition as to which one would appear more human (the whole setup felt like the TV set of Jeopardy).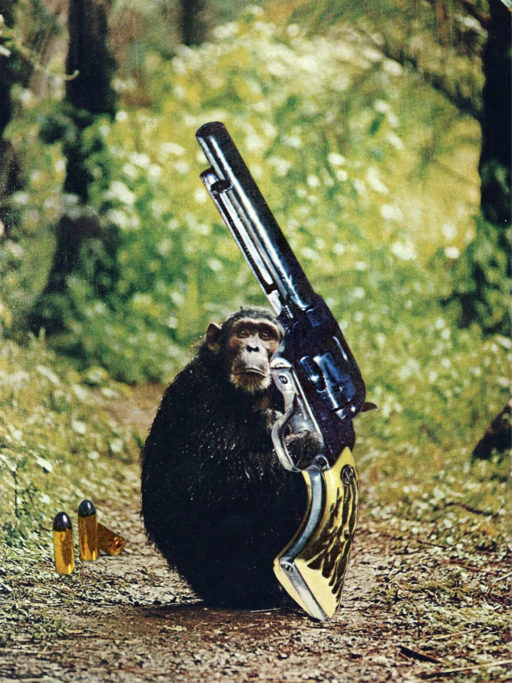 Good luck fighting the agenda with monkey-cowboy mentality
Next thing I knew, I'm looking into a concentration camp, on Earth. It's filled with hybrids, mostly male. Apparently, the aliens has dumped them on Earth, and the military had rounded them up on FEMA camps (maybe that's why they were actually built?).
The alien spacecraft were visible to Earth people, who were afraid of them. The media gets into the camps, to interview the hybrids. They pledge allegiance to the aliens, however, as time goes by, their change their position, because they feel used and abandoned by the aliens, stuck in a prison. They say that they feel human, that they would like to be part of the society, and most importantly, they'd join the humans to FIGHT the aliens, in exchange for their freedom.
And they do, purporting "important strategic and technical information". The aliens and their stationed spacecraft are "defeated" and they are leaving. Hurrah for the hybrids (now dubbed "New Humans") who have just won their freedom.
The alien plan is now complete. Most of the humans feel that these hybrids helped them win against an immediate alien danger, while the alien plan was such all along: integrate the hybrids into the society in a way that the humans accept them by seeing them as heroes. What's easier than that to spread their seed?
The aliens obviously are never leaving. They were always here, and will always be here, even if we can't see them.
Of course, none of these public stunts have to happen, since the US military is already in cahoots (has no choice, really) and could integrate these populations immediately, without any fanfare. However, not every military is US (these people are going to be dumped worldwide), and without the appearance of an alien threat, the world can't come together (as it should, really). Someone would call it a New World Order, but call it how you want it and paint it as negative or as positive as you want, it's something that humanity needs in order for the planet to survive.
And of course, 30-40 years down the line, a virus would appear, that would decimate the homo sapiens, but leave unscathed the hybrids and their offspring. This is needed for a quicker and smoother switch to the new species.
Comments